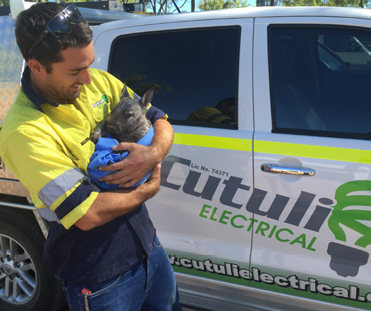 Tyrone Cutuli –

Director
Brett Lodding –

Director
Cutuli Electrical has operated in the Gladstone region since 2010 and has since grown and expanded services through the Central Queensland region all the way down to northern New South Wales. We are prepared to take on any task or challenge presented to us by homes, businesses and facilities throughout the greater Central and South East regions, at all times using the full breadth and depth of knowledge and skill.
Clean and

clear

From day one, Cutuli Electrical has been focused on delivering the highest possible level of energy efficiency to our customers. Every fix or installation we carry out is geared toward maintaining or improving your existing level of efficiency, effectively saving you more money now and in the future. We have even been part of the Queensland government's energy efficiency initiatives.

We work with you to ensure that your existing lifestyle, routine or business operation is improved and never impeded. Best of all, every solution we offer is practical, professional and entirely cost-effective no matter who you are or what your needs may be.
Our

Vision

"To become the region's leading contractor that nurtures a winning network of customers and partners that together help build and support sustainable."
Our

Mission

"To create a brand, which inspires honesty, safety and reliability that consistently exceeds customer's expectations."
Safety
Safety is a core value at Cutuli Electrical. Setting a high safety standard is crucial to our day to day operations. We believe in zero harm and so are committed to providing a safe and healthy working environment for our workers, contractors and visitors.
Our employees are

experienced in:
Quickly adopting client and site-specific safety requirements and procedures
Offering safe, innovative solutions to equipment safety issues
Working seamlessly with site engineers and managers
Providing professional reporting
Community
As a truly local business, we believe in keeping profits within the community. When the community buy local, we all benefit. "We support the people who support us"
Some of the charities and community groups we support:
Safe Haven Wildlife Sanctuary
Quoin Island Turtle Rehabilitation Centre
Rotaract Gladstone
Tannum Seagulls Rugby League
Wallabies Junior Rugby League
Clinton Ladies Soccer